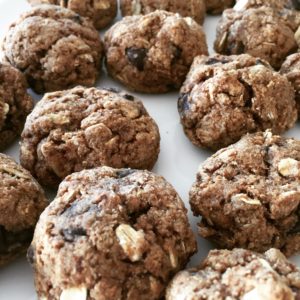 Chocolate Chip Cookies are one of my 2 year old daughter's favorite foods.  She likes to have one daily if they are around, so I needed to create a delicious recipe that is full of healthy ingredients.  Give them a try! I think you'll love them, guilt free…
Serving: About 12 (if you don't eat too much batter!)
Prep Time: 10 minutes      Bake time: 9-10 minutes
Preheat oven to 350F
1 cup of sprouted spelt or whole wheat flour (both can be found at Stop and Shop)
1/2 tsp of baking powder
1/2 teaspoon of baking soda
1/2 cup of date palm sugar
1/2 cup of apple butter (or applesauce)
1 TB of melted ghee
1 teaspoon of vanilla extract
1 cup chocolate chips (we use dairy free, vegan)
1/2 cup gluten free rolled oats
Put everything together in a large mixing bowl. The dough can be a bit sticky, but they hold up well in the oven.
Place cookies on parchment paper so they do not stick to the cookie sheet.
Bake in the heated oven for 9-10 minutes. Be sure not to over cook them.
They taste best while hot.  I hope you enjoy these as much as we do!